Silicone Injection Molding
Custom Silicone Injection Molding
Elite Technology is your source for high-quality, custom silicone injection-molded parts that transform your product designs into vital components in today's high-tech industrial devices. We offer competitive pricing and quick lead times on high-quality custom silicone injection molding.
For total project management, just let our experienced design team know what you need.
Once your files are received, we'll review them to identify and communicate any potential design improvements to save money through the manufacturing process. Our mission is to save design time and project costs throughout the silicone injection molding process.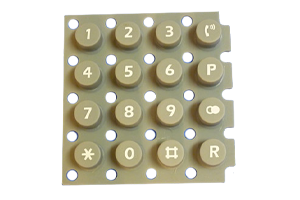 The Advantages of Custom Silicone Injection Molding
Custom silicone injection molding is one of the most efficient ways to create custom silicone rubber-molded products. In the injection-molding process, silicone rubber is heated and placed under significantly greater pressure per square inch of cavity surface. This allows the silicone to flow more easily into mold cavities, eliminating the need for labor-intensive pre-forms, decreasing cure times, and reducing material waste costs.
Manufacturing Applications
The durability of custom silicone injection-molded parts provides excellent resistance to high temperatures, chemicals, ozone, and UV radiation and offers high-quality color reproduction to match different project designs.
We have extensive experience manufacturing molded silicone rubber parts used in a variety of applications:
Keypads
P+R keypads
Gaskets
Seals
Handgrips
O-rings
Rollers
Washers
Co-molded silicone keypads with metal frames — these rigid and pliable rubber keypads are easy to assemble in the final product.
Contact Elite Technology today for more information about how our custom silicone injection molding capabilities can improve the performance of your products.
Silicone Injection Molding Specifications:
Capabilities Applied/Processes
• Compression Molding And Silk Screening

Tightest Tolerance
• Please Refer "Precise" Tolerance Chart

Product Length
• 95.25 mm

Product Width
• 95.25 mm

Product Height
• 12.7 mm

Product Weight
• 45 gms

Cutting Method
• Tear Lines Made In Mold

• Pull Off Flash Material

Temperature Range
• Operating Temperature: -30° C to +180° C

• Storage Temperature: -42° C to 250° Cs

Base Material
• Silicone Rubber

Material Used
• Silicone Rubber and Silcone Based Ink

Material Finish
• Matte

Packaging
• Stacked In Zip Lock Bags Before Boxing

• Barcoding On Bags And Boxes Done On Request

Special Feature
• Carbon Contact Pills

Industry for Use
• Phone

Delivery Time
• 3 to 4 Weeks from receipt of PO

Delivery Location
• FOB Hong Kong

• Shipped Worldwide

Drawing Type Accepted
• PDF

• DXF

• IGES

Product Description
• Opaque Silicone Material With Positive Image Printing And Carbon Pills