Custom Silicone Rubber Molding
Elite Technology is your source for high-quality silicone keypads, gaskets/seals, P+R keypads, and co-molded keypads. An example of co-molding is a combination of silicone with metal frames for a rubber keypad that is both rigid and pliable. This aids in the ease of assembly for the final product.
Contact Elite Technology today for more information about our custom silicone rubber molding capabilities.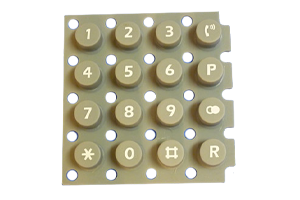 Custom Silicone Rubber Specifications:
Capabilities Applied/Processes
• Compression Molding And Silk Screening

Tightest Tolerance
• Please Refer "Precise" Tolerance Chart

Product Length
• 95.25 mm

Product Width
• 95.25 mm

Product Height
• 12.7 mm

Product Weight
• 45 gms

Cutting Method
• Tear Lines Made In Mold

• Pull Off Flash Material

Temperature Range
• Operating Temperature: -30° C to +180° C

• Storage Temperature: -42° C to 250° Cs

Base Material
• Silicone Rubber

Material Used
• Silicone Rubber and Silcone Based Ink

Material Finish
• Matte

Packaging
• Stacked In Zip Lock Bags Before Boxing

• Barcoding On Bags And Boxes Done On Request

Special Feature
• Carbon Contact Pills

Industry for Use
• Phone

Delivery Time
• 3 to 4 Weeks from receipt of PO

Delivery Location
• FOB Hong Kong

• Shipped Worldwide

Drawing Type Accepted
• PDF

• DXF

• IGES

Product Description
• Opaque Silicone Material With Positive Image Printing And Carbon Pills