Custom-Molded Keypads
We specialize in the production of custom-molded keypads, membrane keypads, rubber keypads, and silicone rubber keypads. If backlighting is required, we provide various backlighting styles ranging from LED (Light-Emitting Diode) to incandescent and LGF (Light Guide Film), a new technology that produces a bright, evenly illuminated custom keypad that possesses a good tactile feel.
Custom-molded keypads can be assembled using a variety of materials, including epoxy, acrylic, polycarbonate, silicone and more. We also co-mold silicone with metal frames for a rubber keypad that is both rigid and pliable then ease the assembly into the final product.
Our innovative custom-molded keypads can be manufactured to accommodate a variety of products including audio/video equipment, calculators, MRI machines, medical equipment, and LCD watches.
Offering a range of styles such as dome, rubber, silicone, hard caps, and sheet metal, we have served a wide array of industries including aerospace, appliances and electronics.
Contact Elite Technology today for more information about our premium custom-molded keypads, membrane keypads, and silicone rubber keypads.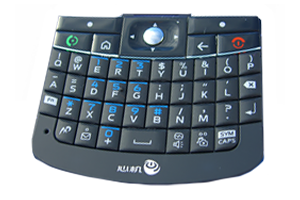 Silicone Rubber Keypad using Compression Molding & Silk Screening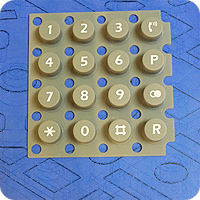 Created with silicone molding material, this keypad features an opaque material and positive image printing. The ink used to print the keypad's graphics is a silicone-based ink that bonds to the silicone base material after post curing. Carbon pills on the bottom of each key allows the buttons to interact with a PCB in the final assembly.
Laser Etched Keypad with Polydome Array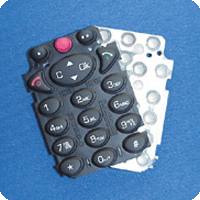 This keypad is molded with translucent silicone material, screened with the required graphic colors, then spray-painted with a silicone-based black ink. Laser etching is then performed to allow the colors to show when the keypad is backlit. Final process is coating the keypad to extend the life of the graphics.
Ultra Thin Keypad Co-Molded with Silicone Rubber & Metal Frame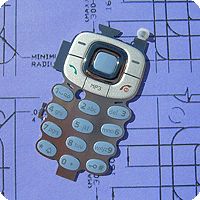 As the name suggests this keypad has Polycarbonate tops permanently adhered to a silicone base material. The graphics, in this case, are clear except for the green send and red end keys. When back lit these clear graphics appear white. However, when the backlighting is not on, the graphics appear black. This particular version called for a very attractive blue plastic key top.
Thermoplastic Polyurethane (TPU) Keypad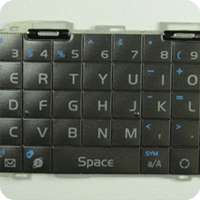 This keypad has the soft feel of TPU (Thermoplastic Polyurethane). This TPU film is formed using a co-molding process with silicone rubber. It is similar to IMD (In Mold Decorating) but has a softer feel than is available with PET films generally used in IMD keypads. TPU film cannot be formed with deep draws like PET films used in IMD keypads. Thus they are ideal for thin keypads used in small hand held products. The TPU material has superior abrasion resistance and is resistant to chemicals and UV lighting.
Custom Molded Keypad Specifications:
Industry Focus
• Aerospace

• Appliance

• Automotive

• Commercial

• Electronics

• Energy

• Food Processing

• HVAC

• Industrial

• Marine

• Medical

• Military/Government

• Packaging

• Pharmaceutical

• Restaurant

Intended Application
• Audio/Video

• Calculators

• Cameras

• Copiers

• Digital Meters/Gauges

• Fax Machines

• Fire Alarms

• Handheld Games

• LCD Watches

• Medical Equipment

• MRI Machines

• Navigation Equipment

• Security Systems

• Test Equipment

• Toys

Keypad Type
• Dome Array

• Hard Caps

• Rubber Keys

• Sheet Metal Keypads

Keypad Keytops
• Acrylic

• Epoxy

• Glass

• PET

• Polycarbonate

• Ultra Thin Polycarbonate

Keypad Material
• Plastic

• Rubber

• Silicone

• Dual Durometer

• Thermoplastic


Features & Technologies
• Abrasion Resistance

• Backlit

• Chemical Resistant

• Custom Graphics/Silk Screening/Pad Printing

• In-Mold Graphics

• Laser Etched Graphics

• Membrane Switches

• Metal Domes

• Metalized Look

• Multiple Colors

• Polished Surfaces

• Resistant to Fluorescent Lighting

• Textured Surfaces

• UV Light Resistance

Surface
• 3D

• Concaved

• Flat

Keypad Coatings
• Parylene

• Polyurethane (PU)

• Silicone

Backlighting Style
• Incandescent

• Light Emitting Diode (LED)

• Flood Lighting

• Narrow Viewing

• Light Guide Film (LGF)

• Electroluminescence Panel (ELP)

• Woven Fiber Optic Mesh

Manufacturing Processes
• Compression Molding

• LIM (Liquid Injection Molding)

• Injection Molding

• Insert Molding

• Metal Frame

• Vacuum Metalizing

Pill Conductor Sizes
• 1.5mm

• 2.0mm

• 2.5mm

• 3.0mm

• 3.5mm

• 4.0mm

• 4.5mm

• 5.0mm

• 5.5mm

• 6.0mm

• 6.5mm

• 7.0mm

• 7.5mm

• 8.0mm

• 9.0mm

• 10.0mm

Base Thickness
Min.

• .008 in

• .2 mm

Wall Thickness
Min.

• .008 in

• .2 mm

Distance Between Keys
Min.

• .110 in

• 2.8 mm

Length & Width of Individual key
Min.

• .126 in

• 3.2 mm

Lighting Life (Manufacturers Specifications)
• LED= Around 50,000 Hours

• ELP= 3,000-5,000 Hours to Half Brightness

• Fiber Optics= 100,000 Hours (Depending on Type of Bulb Used as the Light Source)

Production Volume
Min.

• 500 units

• Mid Volume to High Volume

Typical Lead Times Available
Min. (Production)

• 3 Weeks



Max. (Production)

• 4 Weeks

Industry Standards
• ISO - International Organization for Standardization

• RoHS - Restriction Of Hazardous Substances (Compliant)

• REACH (Compliant)

File Formats
AI (preferred)



AutoCAD (DWG,DWZ)



BMP

• Bit Mapped Graphics



DXF

• Drawing Interchange Format, or Drawing Exchange Format



GIF

• Graphics Interchange Format



IGES(Preferred)

• Initial Graphics Exchange Specification, ANSI file format.



JPG or JEPG

• Joint Photographic Experts Group



PDF

• Portable Document Format



SolidWorks (SLDPRT,SLDDRW,SLDDRT)


STEP

• Standard for the Exchange of Product Model Data



TIFF

• Tagged Image File Format

Tolerances
Size(mm)(±)

• 0-4.0 +/-0.10

• 4.0-6.3 +/-0.15

• 6.3-10.0 +/-0.20

• 10.0-16.0 +/-0.20

• 16.0-25.0 +/-0.25

• 25.0-40.0 +/-0.35

• 40.0-63.0 +/-0.40

• 63.0-100.0 +/-0.50

• 100.0-160.0 +/-0.7

• 160> +/-0.50



Size(Inch)(±)

• 0-0.157 +/-0.004

• 0.157-0.248 +/-0.006

• 0.248-0.394 +/-0.008

• 0.394-0.630 +/-0.008

• 0.630-0.984 +/-0.010

• 0.984-1.575 +/-0.014

• 1.575-2.480 +/-0.016

• 2.480-3.397 +/-0.020

• 3.937-6.300 +/-0.028