Custom Molded and Injected Plastics
Custom Double-Shot and Single-Shot Injection-Molding Manufacturing Services
At Elite Technology, we specialize in molding high-quality, tight-tolerance custom-molded plastic parts in quantities from prototype to large-scale production runs. We have 44 single-shot injection molding presses ranging from 50-430 tons and 27 double-shot injection molding presses ranging from 60-300 tons.
Our ISO-certified custom-molded plastics facility has two clean rooms (a 10,000 class and a 100,000 class) where we can maintain precise environmental conditions to meet the strict requirements of the medical and electronics industries.
Working with all types of resin materials, we are capable of single-shot injection-molding and double-shot plastic injection-molding (also known as two-shot molding), insert molding, overmolding, and liquid-injection molding, which is particularly suitable for medical parts.
We also have four in-mold decorating lines that allow us to economically fabricate custom-molded plastic parts with different colors, textures, and long-lasting graphics. Our waterproof plastics experts are skilled at producing waterproof parts and testing to IP68. We test 100% of these products and maintain four electronic manufacturing services (EMS) assembly lines to supply tested and approved units.
We offer engineering assistance to all our clients and provide value-added secondary services. With many clients in the medical, electronics, automotive, and communication industries, among others, we have experience manufacturing custom-molded plastic parts used in appliances, office equipment, industrial controls, as well as consumer electronics and medical devices.
Contact Elite Technology today for more information about our custom double-shot and single-shot injection-molding manufacturing services.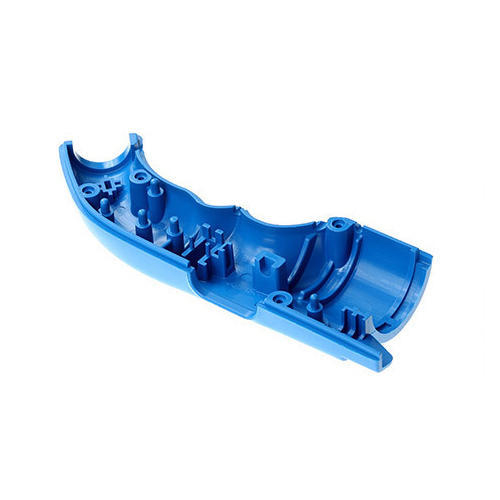 Insert Molding of Polycarbonate Waterproof Cases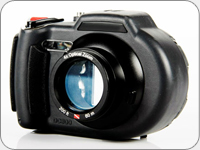 Highly precise plastic injection molding was required to produce this waterproof camera case. Built to customer specifications, this 380-gram case required insert molding of the front and rear of the case as well as double-injection molding of the keys and push button.
Measuring 130mm x 80mm x 95mm, the case is composed of polycarbonate and TPE, with black and red coloring. Each unit was pressure-pot tested, which involved subjecting it to the equivalent of 50 meters of water.
Double-Injection Molding of a TPE Controller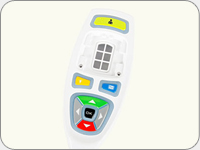 This controller was designed for use in hospital bed applications and required three individual plastic injection-molding processes. The front cover was double-injection molded and had keys inserted into the mold — this process is known as "co-molding." Single-injection molding was used to manufacture the rear case and the keys utilized in mold decorations to apply the symbols.
The finished controller measured 190.5mm x 69.85mm x 31.75mm and was composed of polycarbonate and TPE. Ergonomically designed for ease of use, the buttons are laid out for easy accessibility. The unit is also completely sealed against spills for easy cleaning.
Double-Injection Molding of Polycarbonate Keys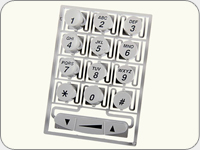 Used in the telecommunication industry, this keypad is molded from polycarbonate and required two-color, double plastic-injection molding, which was performed on our double-injection press. The combined shots weighed 25 grams, with a finished size of 82.55mm x 63.50mm x 14.2875mm.
The completed part featured graphics that are protected from abrasion and material that will allow backlighting if required.
Insert Molding of a Polycarbonate Body Massage Tool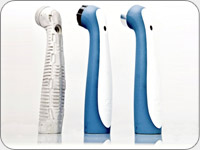 The medical massage tool shown here was fabricated by insert-molding die-cast aluminum components with polycarbonate and TPE. Molded to the customer-supplied specifications, the finished product measured 152.40mm with an approximate diameter of 38.10mm.
Weighing 500 grams, it was ergonomically designed for a firm, comfortable grip with backlighting possible to confirm power when in use.
Insert Molding of a Scanner Cover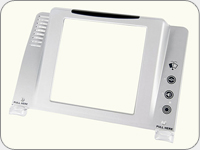 Used within an ATM scanner/barcode reader assembly, this custom insert-molded cover is composed of aluminum with polycarbonate and TPE. Fabrication included insert molding, overmolding, and surface printing.  The finished part measured 204.80mm in length, 288.93mm in width, and 39.70mm in height. The processes applied to manufacture this component provide a durable, robust finish that will hold up to years of heavy use.
Custom Molded and Injected Plastics Capabilities
General Capabilities
• Engineering assistance with clients

• Prototype mock-up sample

• Value-added process post molding

• EMS and contract assembly

Molding Process
• Double-plastic injection (two-shot molding)

• Single-plastic injection

• Over molding

• Insert molding

• In-mold decorating (IMD)

• Liquid-injection molding (LIM)

• Metal-injection molding (MIM)

Custom-Molded Plastic Part Types
• Enclosures

• Top cover

• Knobs

• Dials

Resin Materials
• Polycarbonate (PC)

• ABS

• Polyphenylene (PPE)

• PPR

• Silicone

• Thermoplastic rubber (TPR)

Film Material
• Polyethylene terephthalate (PET)

• Polycarbonate (PC)

Two-Shot Molding Tonnage
• 60 to 300 tons (27 sets)

Single-Shot Molding Tonnage
• 50 to 430 tons (44 sets)

Assembly
• EMS

• Clean rooms

• 10,000 class

• 100,000 class

Waterproof Protection
• Up to IP68

Secondary Processes
• Silk screening

• Painting

• Sputtering

• Vacuum plating

• Electroplating

• Injection-mold manufacturing

Industry Focus
• Medical

• Automotive

• Communications

• Marine

• Security

• Electronics

• Lawn and Garden

• Avionics

• Off-Highway

Industry Standards
• ISO (International Organization for Standardization) certified

• RoHS (Restriction Of Hazardous Substances) compliant

• MIL-STD

Intended Applications
• Appliances

• Telephones

• Calculators

• Office equipment

• Entertainment systems

• Industrial controls

• Electronic games

• ATMs

• Gas pumps

Production Volume
• Prototype to large-scale production volume run

Lead Time (Parts)
• 30 days

Lead Time (Tooling)
• Prototype: 30 days

• Production: 40 days

File Formats
• SolidWorks (SLDPRT, SLDDRW, SLDDRT)

• IGES (Initial Graphics Exchange Specification, ANSI file format)

• PDF (Portable Document Format)